A Random Walk Down Wall Street
By Burton G. Malkiel,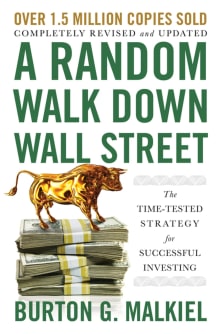 Recommended by Andrew Tobias
From Andrew's list on investment books you might want to read.
This is the classic book that tells us we can't beat the market, and explains why. That hasn't stopped me from trying, of course (did I mention "human nature" up above?).  Even Malkiel hedged somewhat—look at Warren Buffett, look at a handful of other famed investors who've consistently beaten the market—describing himself as "a random walker with a crutch." I.e., the market is largely efficient, just not entirely so.  
---