The Great 401(k) Hoax
By William Wolman, Anne Colamosca,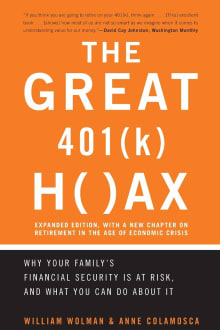 Recommended by James W. Russell
From James' list on retirement plans if you don't trust Wall Street.
Wolman and Colmosca, former BusinessWeek writers, were among the early writers to expose just how bad 401(k)s were for workers. They showed how Wall Street interests profited from the plans at the expense of retirement security. They knew a lot about stock market investing and doubted that, even in the best of situations, the stock market would be able to produce enough value to adequately support retirees. They came to the conclusion that the 401(k) system could not be reformed and should be abolished. I liked the book because it was coming from people within the system (BusinessWeek) who realized that it was not working. 
---