Social Security Works!: Why Social Security Isn't Going Broke and How Expanding It Will Help Us All
By Nancy Altman, Eric Kingson,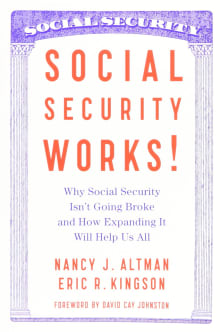 Why this book?
This is the place to start since it treats the base of our national retirement system—our national pension. I don't think there's anybody who knows more about Social Security than Altman and Kingson. They are the founders of the advocacy organization by the same name, Social Security Works. It is their job, and they do it well, to explain why Social Security works as well as it does despite the claims of its right-wing enemies and what we have to do to protect it from attempts to privatize it or reduce its benefits. This is not just a manifesto, it contains a ton of clearly-written information about how Social Security as a social insurance system works and what can be done to make it better.
---