Gap Creek
By Robert Morgan,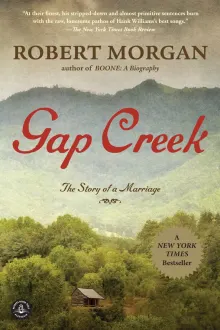 Recommended by Solveig Eggerz
From Solveig's list on where characters don't mingle much and talk funny.
This depiction of a life of poverty in southern Appalachia around 1900 would be too sad to warrant its reading, were it not for its strong and sensitive narrator, Julie Harmon. The author describes the mundane details of butchering a hog or washing of a dead man's feet within the context of the marriage of Hank and Julie, poor, uneducated, and perhaps mismatched young people who face one adversity after another. The details of ordinary life blossom into unexpected meaning in the interpretation of a sensitive narrator who not only cherishes details, but who is also exquisitely aware of her own feelings. She speaks in the straightforward language of an uneducated person rather than in the flowery prose of a voice attuned to expressing itself. Yet her presentation takes on the poetry of a clever woman gifted with a unique interiority.
Through Julie, the author renders nuanced feelings in a…
---