Look Homeward, Angel
By Thomas Wolfe,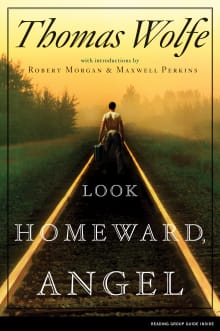 Book description
The spectacular, history-making first novel about a young man's coming of age by literary legend Thomas Wolfe, first published in 1929 and long considered a classic of twentieth century literature.

A legendary author on par with William Faulkner and Flannery O'Connor, Thomas Wolfe published Look Homeward, Angel, his first novel,…
Why read it?
3 authors picked Look Homeward, Angel as one of their favorite books. Why do they recommend it?
Beverly A. Li
As a leader in autobiographical fiction, Wolfe writes of a large family dominated by an alcoholic, authoritarian father who is highly dramatic in words and behavior.
His wife's determination to survive by running a boarding house and investing in real estate leaves little time for parental attention to the needs of their children.
While most grow to repeat the dysfunctional family habits that hinder healthy development, the youngest child, with the help of his teachers, struggles enough to finally take steps away from the pain, and out of the cycle, as I did with my own life.
John Milliken Thompson
Another Southern cultural landmark, this North Carolina tour de force comes, like Faulkner, out of a tradition steeped in Shakespeare and the King James Version of the Bible. Some people think you can appreciate this one only when you're young. Not true. I read it for the second time in my 40s and got caught up again in the Gant family saga and those wonderful, rolling sentences, exploding like thunder all around.
James Wade
Wolfe is, in my opinion, a writer's writer. His passion for life and for the written word are evident in the way he seemingly attacks each page. Some have called his writing "exhausting," and it may very well be—but no doubt because the writer himself was exhausted by the time he was finished. Look Homeward, Angel is one of the great American novels and its theme of growing up and coming of age and leaving home is as universal as it is timeless. Bonus points for the inspired paragraphs in which Wolfe depicts every smell Eugene Gant is exposed to…