The Paper Bag Princess
By Robert Munsch, Michael Martchenko (illustrator),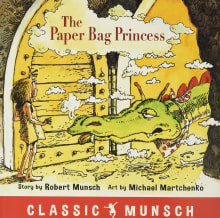 Recommended by Lisa Lucas
From Lisa's list on children's classics and one that should be.
This book is an important read for everyone. It smashes the stereotype of the perfect princess to smithereens.
When a fire-breathing dragon destroys Princess Elizabeth's castle and then burns her clothes and kidnaps her fiancé, Ronald, she immediately gets to work. She puts on the only thing she can find - a paper bag. She then cleverly outwits the dragon and rescues Ronald, who turns out to be a selfish narcissist, and tells her to come back when she looks more like a princess. Elizabeth, strong and resilient, is unfazed and rejects him on the spot as she dances off into the sunset.
The illustrations by Martchenko are every bit as important as the words - there are so many visual gems hidden among Elizabeth, Ronald, and the Dragon. Keep looking especially at the Dragon. You'll find them. This book came out in 1980 when the woman's movement was gaining…
---