Take Back Your Kids: Confident Parenting in Turbulent Times
By William J. Doherty,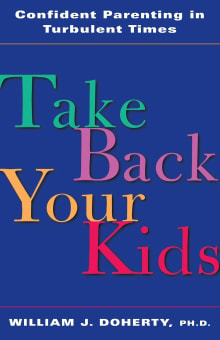 Why this book?
Bill Doherty is an astute psychologist and master storyteller who draws on a great store of examples and anecdotes from his work as a family therapist and director of the University of Minnesota's Marriage and Family Therapy Program. What he sees most often missing in modern parents is not love, but the confident exercise of authority. His short book is an excellent tutorial on how to practice that. He's right to emphasize it: At all developmental levels, studies find that an "authoritative" (not authoritarian) style of parenting is the one most often associated with kids' becoming confident, respectful, and responsible persons. This parenting style values both obedience to adult requirements and independence in children, explains the reasons behind rules, allows give and take, but doesn't permit kids to treat parents as peers.
Doherty's chapter on 11 guidelines for giving and getting respect is a gem. He also offers good advice for single parents and blended families and a thoughtful discussion of the benefits of belonging to a religious community, especially one that gets kids involved in service. Page for page, no parenting book I know packs in more practical wisdom in an often entertaining way.
---