The Stress Solution
By Dr. Rangan Chatterjee,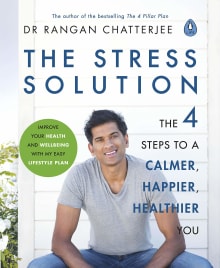 Recommended by Dominique Antiglio
From Dominique's list on self-awareness from a Sophrologist.
Dr. Chatterjee's podcast Feel Better, Live More and The Stress Solution gives a fascinating insight into Dr. Chatterjee's work with patients and how he has been coaching them into better health by reducing their stress levels. As a stress management expert myself, I am a huge advocate of learning techniques to help you reduce stress and, as Dr. Chatterjee says, it only takes a few small lifestyle changes to live a happier life. This book will give you simple steps to take that can really transform how you feel.

---