Letting Go!
By Dr. Sharie Coombes, Ellie O'Shea (illustrator),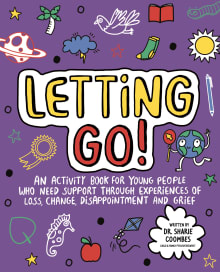 Recommended by Jessica Sinarski
From Jessica's list on children's books for mental health.
Grief, unfortunately, is a part of life. Western culture has a habit of ignoring and minimizing grief in detrimental ways. When we gently turn toward the difficult stuff in life, we can "feel and deal" in ways that benefit mental health. There are many books about grieving the death of a loved one (a list for another day, perhaps), but few acknowledge the other intense and life-altering kinds of loss and change that children are grieving. Dr. Coombes' book is much more inclusive–plus, it delivers a treasure trove of activities to help children (and adults) navigate this challenging part of being human. The delightful doodles will appeal to upper elementary and quite a few tweens and teens.

---