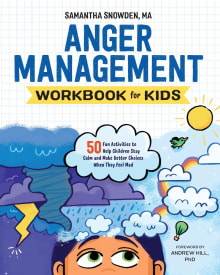 Anger Management Workbook for Kids: 50 Fun Activities to Help Children Stay Calm and Make Better Choices When They Feel Mad
By Samantha Snowden
Why this book?
Anger is so often protecting something tender underneath. When we teach children to dig deeper, to be curious about their angry feelings, we offer them a path to emotional health and better relationships. While many anger management programs (for kids and adults) neglect the nuances of anger's protective function, this book delivers insightful lessons and activities to help children dig deep. The colorful layout and bright illustrations capture children's interest even as they learn about this difficult topic. A great resource for turning on the calm and curious part of the brain that we are all working hard to help…
From the list:
The best children's books for mental health
When you buy a book we may earn a small commission.