Neptune's Inferno
By James D. Hornfischer,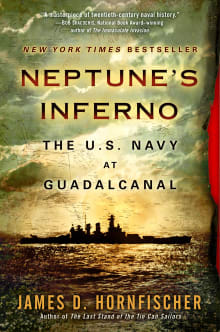 Recommended by Walter R. Borneman
From Walter's list on naval battles in WW2.
All of Hornfischer's histories deserve to be on this list, but Neptune's Inferno is my personal favorite. Guadalcanal is justifiably thought of as the heroic struggle of Marines to take and hold the island, but they could not have done so without the sacrifices of thousands of sailors in the surrounding waters. Hornfischer's smooth style guides one through multiple battles over a four-month campaign, including two of the darkest moments in U.S. naval history: the fiery nighttime battle of Savo Island that initially saved the beachhead and the opening round of the climatic battles of mid-November 1942 that numbered two admirals among the American dead.

---