For Cause and Comrade
By James M. McPherson,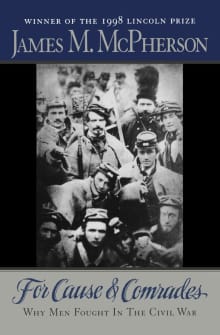 Recommended by Douglas R. Egerton
From Douglas' list on Gilder-Lehrman Lincoln Prize winners.
James McPherson, the dean of Civil War scholars, is known to most readers as the author of Battle Cry of Freedom: The Civil War Era, far and away the best single-volume history of the conflict. But this volume, which came out roughly a decade later in 1997, was one of the first military histories to move beyond generals and commanders and examine why common soldiers enlisted and remained loyal to their fellows even as the bloody conflict dragged on.
After reading tens of thousands of letters and diaries of more than one thousand U.S. and C.S.A. soldiers, McPherson opens previously shuttered windows into their hearts and minds. Their letters home reveal both the tedium and terror of numerous campaigns, and most of all, show how common soldiers were forced to wrestle with the issue of slavery, with northern soldiers, rather like their commander-in-chief, increasingly committed to ending the South's…
---