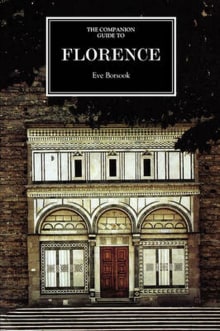 The Companion Guide to Florence
By Eve Borsook
Why this book?
There are millions of great guidebooks on Florence, but none is more entertaining, informative, and lively than Eve Borsook's. An American art historian who lived in the city for most of her life, she unravels Florence's history, art, and politics with verve, knowledge, and insight. As one would expect in a guide, she describes systematically the city, a chapter for each neighborhood, each chapter starting with detailed descriptions of its most interesting streets, squares, buildings, and works of art. But what makes this guide invaluable are Borsook's commentaries that follow her informative descriptions. I suggest you read this book before…
From the list:
The best books to understand the art and culture of Renaissance Florence
When you buy a book we may earn a small commission.