Body In Question
By Brian Innes,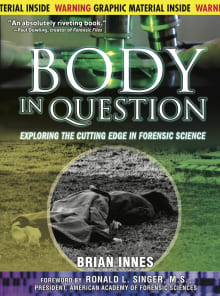 Recommended by Judith A. Yates
From Judith's list on true crime books to keep on your shelf.
This book is forensics for the layman. No mechanical component replaces education and knowledge. Electronics break down and computers are just machines. It is a good "old-fashioned" investigation work that solves crimes. This book explains how. It is easy-to-read, exciting for students, "couch cops," and even investigators. This book appeals to all types of learners with a thorough history of investigative processes filled with photos, charts, sketches, and maps. It also includes case studies of criminals and criminal behavior, manner of death, and profiling.
No, this book doesn't discuss the latest in lasers and it only briefly touches on DNA. It's about the natural investigative process: reasonable doubt, time and cause of death, criminal behavior, and courtroom proceedings. Want to read up on the future of orbiting satellites in investigative technology? Try another book. Want to see human eyelashes magnified by 50x in order to understand skin and hair samples?…
---