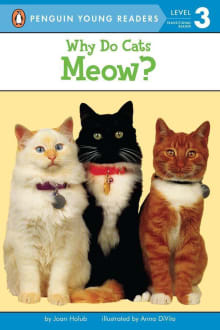 Why Do Cats Meow?
By Joan Holub
Why this book?
Like my book, this one draws young readers into the topic of animal adaptations with a question. Although the book doesn't have a table of contents for easy perusing, it does provide a model for picking and choosing the chapters of interest. It's likely to be a young reader's first experience with the scanning procedure we use in nonfiction materials--as opposed to the page after page reading necessary in fiction stories. The book consists of 20 chapters each addressing a question about cat behavior. The explanatory paragraph is from 3-10 sentences long, pitched at a late 1st-grade reader. The visuals…
From the list:
The best books on animal adaptations for young readers
When you buy a book we may earn a small commission.