A House in the Woods
By Inga Moore,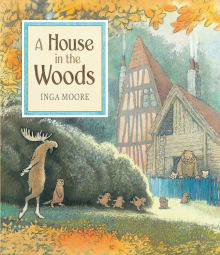 Recommended by Alexandre Lacroix
From Alexandre's list on bedtime stories.
There are multiple possible interpretations for this very well illustrated story: it's above moving from one habitation to another, but also on, a more symbolic level, about reconstituted families. At least, this is the sense it has for the adult because for children it's much simpler, we see here sympathetic animals building a house in the forest.
---