My Bombay Kitchen
By Niloufer Ichaporia King,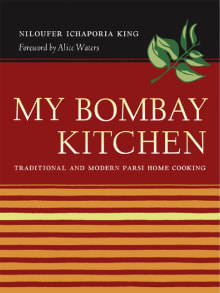 Recommended by Darra Goldstein
From Darra's list on cookbooks for armchair travelers.
Until picking up this book I knew nothing about Parsi food, a distinctive way of cooking practiced by the descendants of the Zoroastrians who fled Persia for India around the 8th century. And what a cuisine it is! This book engages all your senses, immersing you in the aromas, colors, and tastes of Parsi kitchens. Niloufer King's descriptions are beguiling, her language deft as she evokes dishes like the "wobbly" cauliflower custard of her childhood and its "trembling delicacy," or a hot green chutney that is "raucous" rather than refined. King brings family and friends to life through anecdotes that reveal the long history and continuing evolution of this distinctive manner of cooking.

---