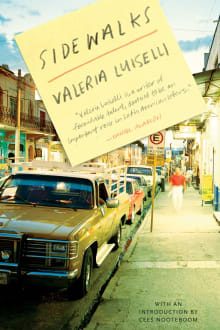 Sidewalks
By Valeria Luiselli, Christina Macsweeney
Why this book?
Valeria Luiselli dissects the odd systems and networks of our world's cities and reveals in their hidden corners and corridors strange and magical identities. Luiselli's essays further interrogate a city's relationship to the bodies, cultures, artifacts, and languages that inhabit its spaces. In the essay, "Flying Home," Luiselli journeys to Mexico City, the place of her birth, and, staring out of her airplane window, considers the city's layout from this great height. This act of "mapping" according to her extraordinary vantage (suspended in flight), allows for a greater, incantatory meditation on our various perceptions of "home," and how said perceptions…
From the list:
The best nonfiction books that feature amazing flying things
When you buy a book we may earn a small commission.