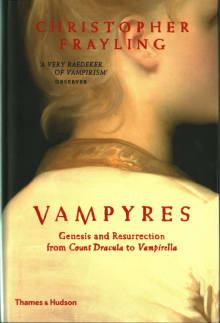 Vampyres: Genesis and Resurrection: From Count Dracula to Vampirella
By Christopher Frayling
Why this book?
Frayling's book is very much a forerunner of Groom's, being one of the first serious (but also immensely readable) studies of the vampire in culture. This one keeps its sights trained more on the nineteenth-century vampire. It begins with The Vampyre, the story written by John Polidori at the Villa Diodati at the same infamous gathering that spawned Marty Shelley's Frankenstein. Polidori was Lord Byron's physician, but the two men fell out badly, and Polidori's aristocratic bloodsucker Lord Ruthven is widely regarded as modeled on Byron. Although now little remembered, The Vampyre began the Victorian craze for vampires that…
From the list:
The best books about vampire myths and their cultural fascination
When you buy a book we may earn a small commission.