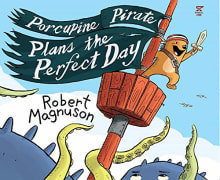 Porcupine Pirate Plans the Perfect Day
By Robert Magnuson
Why this book?
This book teaches a fundamental lesson that kids should learn as they grow up, which is the importance of seeing the silver lining of things especially when things don't go your way. I think this book would also be a great way to introduce kids to comics. It's not a graphic novel but a children's book with some aspects of comics in it. The illustrations are super fun to look at too! I like how there's a variety of creatures in this book.
From the list:
The best animal children's books that teaches good morals and values
When you buy a book we may earn a small commission.