Winning the Green New Deal
By Guido Girgenti, Varshini Prakash,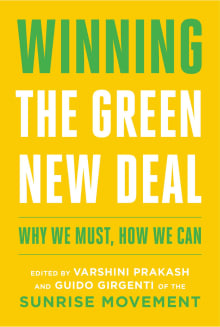 Recommended by Laurie Laybourn-Langton
From Laurie's list on to help us face up to the environmental crisis.
I was one in a world of frustrated and increasingly anxious people back in 2018. Politicians just weren't talking about the severity of the environmental crisis and the vast actions that we need (and can) undertake to tackle it. And then Extinction Rebellion, Greta Thunberg and Fridays for the Future, Alexandria Ocasio-Cortez and the Green New Deal, and the Sunrise Movement came along. Suddenly everyone was talking about it. This set of essays brings so many of those thinkers and doers together to give us an inspiring road map for getting out of the crisis and realizing a better world in the process. And it shows us that these movements are built on the shoulders of giants, particularly in the global south. 
---