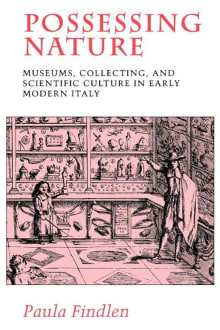 Possessing Nature: Museums, Collecting, and Scientific Culture in Early Modern Italy
By Paula Findlen
Why this book?
This is an excellent and fascinating book on the scientific culture of Renaissance Italy, where intellectuals and the wealthy elite began collecting and cataloging curiosities long before their northern European counterparts. Findlen demonstrates a key way in which Renaissance intellectuals could look back to an idealized ancient past while also creating new knowledge and institutions – namely the museum. This book is beautifully written, full of engaging stories, and shows a side of early modern science often ignored.

From the list:
The best books on Renaissance Italy
When you buy a book we may earn a small commission.