The Human Condition
By Hannah Arendt,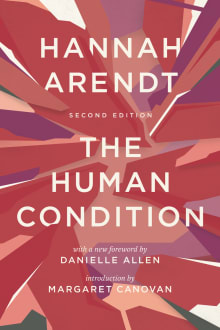 Recommended by Jacqueline Kennelly
From Jacqueline's list on how neoliberalism f*&ks up democracy.
Hannah Arendt is one of the most original thinkers of the twentieth century. I love her ability to weave together continental philosophy, in which she was trained, with the dilemmas of the modern world. Arendt grapples with the origins of our actions, which belong to us but also precede us, as we are all embedded in the march of history. This is fundamentally a critique of both liberalism and neoliberalism, which celebrate the individual at the expense of the relational. Arendt makes the case for why humans can only express their 'who-ness'—their identity and humanity—by participating in the public sphere, within the 'web of relations' between individuals who come together at a 'shared table.' This is a book I return to again and again, each time getting more insight into the complex ideas of this gifted philosopher.
---