Amusing Ourselves to Death
By Neil Postman,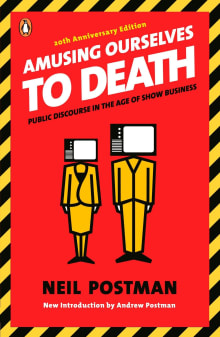 Recommended by Carol Tavris and Elliot Aronson
From Carol's list on navigating the road to the good life.
When Neil Postman wrote this book in 1985, few realized how brilliantly it would predict our present media-saturated times. Postman foresaw how the blurring of news and entertainment would eventually turn politics into theater; how the allure of quick and sensational news bites would diminish our ability to focus on serious, sustained issues; how glitzy if appealing entertainments would shrink our attention spans; and, most dangerous of all, how the immersion in "amusements," a seemingly benign and enjoyable process, would have dire consequences for human happiness, well-being, education, journalism, and politics. We highly recommend this book because navigating the road to the good life means knowing when and how to control our amusements instead of letting them control us.

---