On the Front Line
By Marie Colvin,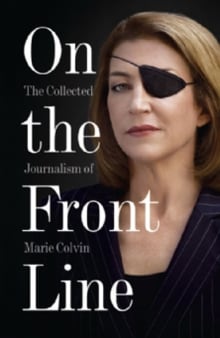 Recommended by K. Lee Lerner
From K.'s list on women journalists working in dangerous places.
On the Front Line is an award-winning collection of stories by veteran war correspondent Marie Colvin. Prior to being targeted for assassination by the Syrian government in February 2012 while she covered the civil war there, Colvin's career and writing showed peerless courage in the pursuit of stories that revealed the inhumanities of war and civil strife. The book contains insightful accounts of interviews of Arafat and Gadaffi as well as her intimate reporting of fighting in Kosovo, Chechnya, East Timor, Afghanistan, Iraq, and the chaos of the Arab Spring uprisings. Blinded in one eye shrapnel while reporting on the Sri Lankan Tamil Tigers, Colvin's style and legendary courage live on in this select collection of her work.

---