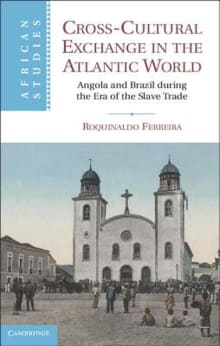 Cross-Cultural Exchange in the Atlantic World: Angola and Brazil During the Era of the Slave Trade
By Roquinaldo Ferreira
Why this book?
In this book, Roquinaldo A. Ferreira traces the trajectory of free and enslaved individuals directly and indirectly connected to the slave trade from Angola in the eighteenth and nineteenth centuries. By looking at the life stories of merchants and ordinary men and women in the ports of Luanda and Benguela he reveals the movements of peoples, ideas, capital, cultural practices, and commodities that shaped the South Atlantic World. Ferreira also demonstrates that the Portuguese incorporated indigenous institutions and cultural practices evidencing that cultural exchanges worked both ways. The book is a fine example of the use of microhistory to recover…
From the list:
The best books to read if you want to know more about the slave trade from Angola
When you buy a book we may earn a small commission.