Way of Death: Merchant Capitalism and the Angolan Slave Trade, 1730-1830
By Joseph Calder Miller,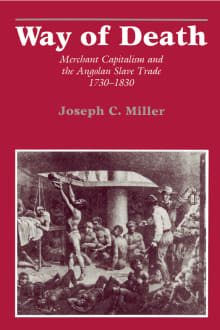 Why this book?
This book is a mandatory read for anyone interested in the history of the transatlantic slave trade. In Way of Death, the late Joseph C. Milller examines the South Atlantic node of the slave trade within the context of the rise of merchant capitalism in the eighteenth century. Miller explores the connections between Angola, Portugal, and Brazil through the experiences of Africans and slave traders of Portuguese, Brazilian, and Luso-African origins. In this book, Miller advances his now much-debated theory of the expansion of the slave frontier eastwards into the deep interior. Scholars interested in the slave trade from Angola agree that Way of Death is a landmark study both methodologically and theoretically. Miller was able to mine primary sources in the Angolan archives in a time when the country experienced war and authorities were suspicious of researchers. 
---