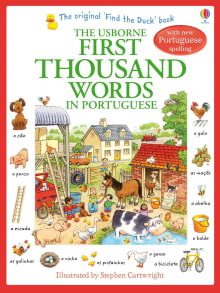 First Thousand Words in Portuguese
By Heather Amery
Why this book?
This is a great book to help you learn some basic Portuguese words quickly. It is also in European Portuguese, unlike many other books that cover the Brazilian language (always something to watch out for when you are looking to learn Portuguese). This is a nicely illustrated book with labelled pictures and scenes that help you start to construct basic sentences – and you have the fun of trying to spot the hidden duck on every page too! I have struggled with learning and recalling Portuguese words, but the basics in this book are easy to remember and cover most…
From the list:
The best books on moving to Portugal
When you buy a book we may earn a small commission.