The Bible in Spain; or, the journeys, adventures, and imprisonments of an Englishman, in an attempt to circulate the Scriptures in the Peninsula
By George Henry Borrow,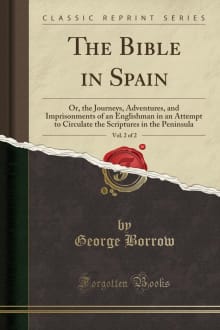 Why this book?
On the face of it, this classic 19th-century travelogue is about one man travelling through Spain and Portugal in the 1830s distributing Bibles… which is not exactly a page-turning idea. And indeed the first section – set in Portugal – is unbearably tedious (in fact, just skip it altogether). But once Borrow crosses the border into Spain it becomes a whole other book. It's as if he can finally cast off his dour, pious disguise and write about what really excites him: Spanish Gypsies. Already speaking their language (the man was a machine when it came to picking up foreign tongues), he falls in with them almost immediately, leading to numerous colourful adventures as he wends his way in Quixotic fashion across the country. The tales he tells are exotic and Romantic (with a capital 'R') and capture something of the ineffable essence of the country: a playful, mysterious and elemental potency which over-serious observers and travellers rarely perceive (and even, in some instances, militate against…).

---