Albion's Seed
By David Hackett Fischer,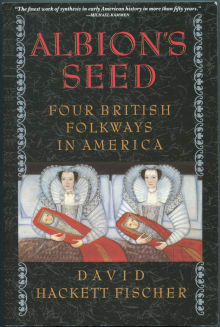 Recommended by Tristram Riley-Smith
From Tristram's list on the United States Of America.
This masterpiece is the equivalent of an MRI scan of America's cultural history. Its 900 pages are packed with scintillating insight into patterns of behaviour and belief underpinning the lives of ordinary Americans. Fischer uncovers ways of thinking and acting that traveled with migrants from the British Isles: Puritans from East Anglia, Cavaliers from the South of England, Quakers from the North Midlands, and English/Scottish Borderers. The author explores and explains American ideas of liberty, time, property, family, ways of working, law and order, and so much more.

---