The Ancient City
By Peter Connolly, Hazel Dodge,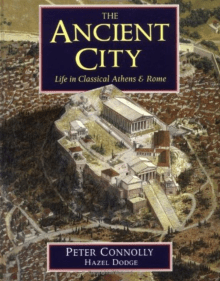 Recommended by Nigel Rodgers
From Nigel's list on daily life in ancient Athens and Rome.
This book has the best illustrations of the two main cities of antiquity that l have ever seen. Besides superb photographs (all in colour) of the ruins today, they include Peter Connolly's brilliant reconstructions of buildings of all sorts: houses, palaces, baths, temples, forums, hippodromes, theatres, amphitheaters, insulae (blocks of flats), bars and aqueducts, plus styles in furniture, clothing, and hair. All are shown in colourful detail, many with cutaway illustrations that recreate city life of 2000 years ago with wonderful vividness. They are complemented by Dr. Hazel Dodge's lucid, informative text. The first part covers Athens at its democratic peak under Pericles around 434BC, the second Rome at its imperial zenith some 500 years later, when it was the greatest city on earth.

---