An Economic History of Athens Under Roman Domination
By John Day,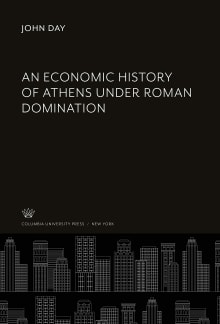 Recommended by Ian Worthington
From Ian's list on post Classical Athens.
This book is about eighty years old. I'm probably not far wrong in saying almost every other page is obsolete thanks to archaeological finds and interpretations of existing material, epigraphical, and literary evidence since it appeared. But it's a wonderful book to read and appreciate how the author uses the evidence available to him to paint a brilliant image of Athenian and indeed Greek economic and commercial life in this period with many fascinating insights. The subject matter might seem unexciting, yet the author brings it alive and makes it really interesting!

---