The Athenian Experiment
By Greg Anderson,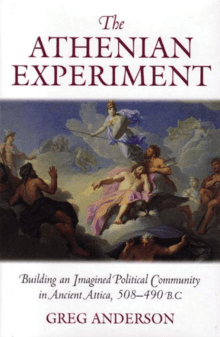 Book description

In barely the space of one generation, Athens was transformed from a conventional city-state into something completely new--a region-state on a scale previously unthinkable. This book sets out to answer a seemingly simple question: How and when did the Athenian state attain the anomalous size that gave it such influence…
Why read it?
1 author picked The Athenian Experiment as one of their favorite books. Why do they recommend it?
Robin Waterfield
At the very end of the sixth century BCE, the Athenians took a leap of faith and turned their city into the first democracy – or proto-democracy, anyway: much tweaking went on over subsequent decades. In terms of European history as a whole, this has probably been the most important event to come out of ancient Greece. It has of course been much studied – so it is remarkable that Anderson's book is filled with fresh insights into the background of the "Athenian experiment," what actually happened, and why. The results are often surprising. Above all, he demonstrates that it…