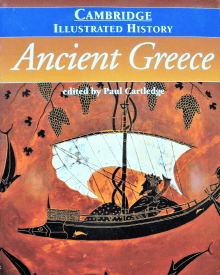 The Cambridge Illustrated History of Ancient Greece
By Paul Cartledge
Why this book?
Not – repeat not – because I am its editor and wrote more than half of it but mainly because this is I believe the one-volume, one-stop-shop book to have on your shelves or digitally on your computer if you want to gain something like a complete understanding and appreciation of the world or rather worlds of Ancient Greece. I can do no better than quote from the 'blurb' provided online by the C.U.P. itself.
It is sumptuously illustrated throughout, almost entirely in colour. It offers fresh interpretations of the whole range of 'Classical' Greek culture, different aspects of which…
From the list:
The best books about ancient Greece and their world
When you buy a book we may earn a small commission.