Scribes and Scholars
By L.D. Reynolds, N.G. Wilson,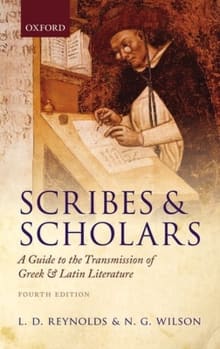 Recommended by Holger Gzella
From Holger's list on becoming a scholar.
For half a century, this classic has introduced students to the ways and circumstances in which Greek and Latin texts, often seen as the pillars of any literate education, were transmitted from Antiquity throughout the Middle Ages into the Renaissance. While it is, despite its crisp and lucid presentation, a highly technical manual, it singles out, based on robust empirical evidence, the importance of tradition and unassuming daily labor in the formation and preservation of knowledge. The effects of unconscious or intentional changes in the manual transmission of ancient texts also constitute the core matter of my own field, philology. On a more personal note, I cherish fond memories of a class on Greek textual criticism by Nigel Wilson when I was an undergraduate at Oxford some thirty years ago.
---