Hadrian's Wall
By Derry Brabbs,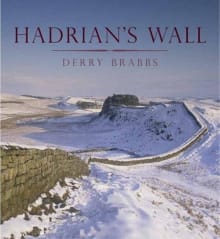 Recommended by Douglas Jackson
From Douglas's list on the best books about Hadrian's Wall and the soldiers who manned it.
Last, but certainly not least, the iconic landmark captured through the lens of a master. Despite the sub-title to my previous book, Mike Bishop's preferred route along Hadrian's Wall is from west to east, with the prevailing wind at his back. Derry Brabbs obviously agrees, because this beautifully illustrated book takes us from the Solway Coast to Wallsend in a series of stunning photographs that capture the Wall in the kind of breathtaking detail that perfectly illustrates why Brabbs is one of the UK's most highly regarded photographers. It's not just about the amazing vistas and moody landscapes, there is a very readable narrative, but it's the photographs that will draw you back time and time again.

---