Spinoza on Human Freedom
By Matthew J. Kisner,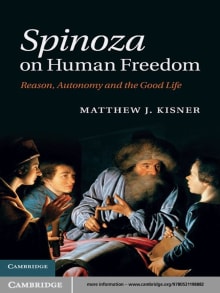 Recommended by Steven Nadler
From Steven's list on Spinoza.
Continuing on the theme of how to make Spinoza accessible to non-specialists, this is an excellent study of the many dimensions of Spinoza's moral philosophy. For a long time, most of the literature on Spinoza was devoted to his metaphysics and epistemology, essentially Parts One and Two of the Ethics. Kisner's was one of the first books devoted to the work's moral dimensions in Parts Three, Four, and Five --  the ethics of the Ethics, so to speak. He covers all the right ground: freedom, happiness, responsibility, benevolence, and so on, and does so in an engaging and illuminating way.

---