Stories of Your Life and Others
By Ted Chiang,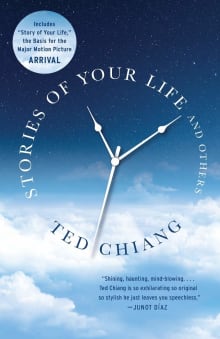 Recommended by Ruth Nestvold
From Ruth's list on sci-fi stories with thought-provoking twists.
After reading "Story of Your Life" in The Year's Best Science Fiction in 1999, I sat in my chair for a while, in wonder and tears, trying to take it all in. Many people know the basic plot, since it was filmed as The Arrival, but as good as the movie is, it can't come close to the novella. Chiang deftly tells the story in a way that reflects how the protagonist learns the language of the aliens—and how it changes her and the way she thinks, quite literally. It is probably the single best story I know for the way the narrative strategy reflects and supports the subject matter. 
---