The Good Old Days-- They Were Terrible!
By Otto Bettmann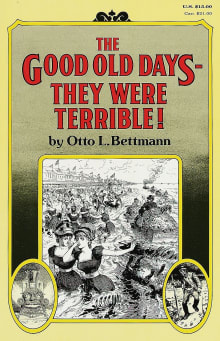 Why this book?
This 1974 book, by the founder of one of the world's great picture libraries, was a real eye-opener to me when I first read it. We are all nostalgic and look at the past through rose-tinted glasses, and so do I. But then we forget about the hunger and the crime, tuberculosis, smallpox and heaps of trash on the streets, the child labor, and the despair of the aged. This richly illustrated book, with its multitude of stories, set me straight. For instance, did you know that New York had 150,000 horses in 1900, each producing around 20 pounds of manure a day? The past stank. It makes you deeply grateful for science, technology, and economic growth.
---
When you buy a book we may earn a small commission.