Athens from Alexander to Antony
By Christian Habicht, Deborah Lucas Schneider,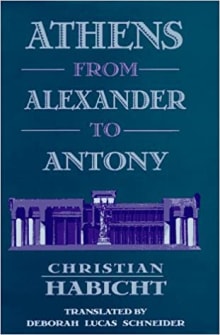 Book description
The conquests of Alexander the Great transformed the Greek world into a complex of monarchies and vying powers, a vast sphere in which the Greek city-states struggled to survive. This is the story of one city that, despite long periods of subjugation, persisted as a vital social entity throughout the…
Why read it?
1 author picked Athens from Alexander to Antony as one of their favorite books. Why do they recommend it?
Ian Worthington
The late Christian Habicht was one of the foremost authorities on Hellenistic Greece. His book is both a synthesis of his research and publications on this period and an incisive and in-depth narrative of Athens down to 30 BC, anchored in the ancient, especially inscriptional, evidence. He shows among other things how Athens remained a vital city in Greece and how its intellectual and social life continued to flourish but how limited its democracy was. Habicht's book could not take into account recent and much-needed epigraphical publications of the city's major state decrees and laws and new insights into chronology,…