Written in Stone
By Sanford Levinson,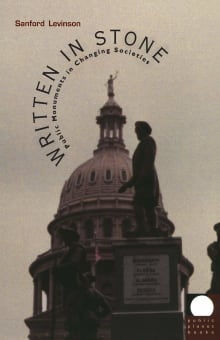 Recommended by Edward T. Linenthal
From Edward's list on American battlefields.
Levinson's book does not focus on traditional battle sites. Rather, it thoughtfully introduces readers to battles that take place over clashing expressions of public memory, particularly memorial controversies, including clashes over name changes and monument removal. I think readers will appreciate his thoughtful treatment of the vexing issues that have swirled around the appropriate location of Confederate memorials. Well before the recent push to remove such memorials from public space, Levinson offered readers various options for dealing with such volatile issues. His book is an insightful and timely guide into the battlefields of public memory.

---