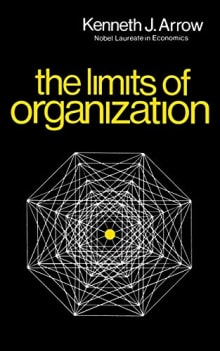 Limits of Organization
By Kenneth J. Arrow
Why this book?
The core question in social science may well be this: markets or central planning? This short book contains one person's take on that big question. That person, Ken Arrow, many believe to be the greatest economic theorist of the past hundred years. His clarity, constraint, and curiosity inspire awe. Arrow, who derived the fundamental welfare theorems of economics,  describes the advantages markets as only he can without being blind to their shortcomings; markets reward selfishness and fail to include any defensible distribution of income. His rich, prescient analysis of formal organizations goes far beyond the standard transaction costs logic and…
From the list:
The best books for an aspiring or inspiring social scientist
When you buy a book we may earn a small commission.