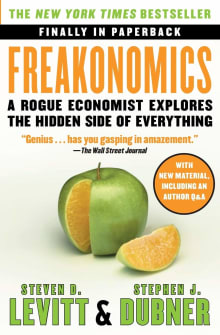 Freakonomics: A Rogue Economist Explores the Hidden Side of Everything
By Stephen J. Dubner, Steven D. Levitt,
Why this book?
Levitt is a pioneer of, and among the most successful users of, techniques of data analysis to identify causes and effects in economics. This book, based on work that won him the Clark Medal, the economics profession's premier prize for young researchers, gives us surprising, quirky, and delightful insights into the workings of many economic, political, and social phenomena.

From the list: