The Big Necessity
By Rose George,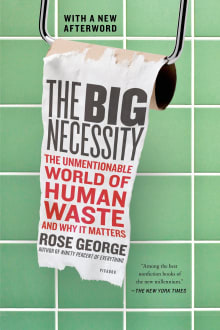 Book description
Produced behind closed doors, disposed of discreetly, hidden by euphemism, shit is rarely out in the open in 'civilized' society, but the world of waste - and the people who deal with it, work with it and in it - is a rich one.This book takes us underground to the…
Why read it?
2 authors picked The Big Necessity as one of their favorite books. Why do they recommend it?
Bryn Nelson
This superb book was one of the first to raise the issue of how poorly we've considered our waste and what to do with it, and it was a big inspiration for me.
It's thoughtful and incredibly well-researched, packed full of amazing historical details, and provides a compelling case for how and why we should get our shit together—literally. I learned so much from this book, and it really encouraged me to keep digging and exploring how we might reimagine our human output. Just an excellent read and a compelling case for change.  
Lina Zeldovich
This is the book that rocked the boat and broke the taboos surrounding the topic of human bodily excretions. The book dug into the stinky topic with dignity and candor, clearly explaining how crucial sanitation is to human health, life, and wellness. Rose George took us around the globe, unveiling the cultures, traditions, and inhibitions surrounding human toilet habits. And in doing so, she graphicly portrayed how lack of sanitation threatens human life, and kills more people than any single disease. I found this book to be a sanitation inspiration and indispensable primer on humanity's big necessity. And I loved…