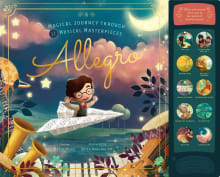 Allegro: A Musical Journey Through 11 Musical Masterpieces
By David W. Miles, Anita Barghigiani
Why this book?
I remember what it was like to be a music student. Like the boy in this book, I sometimes wanted to crumple up my music into a tiny ball and throw it to the floor. Can you relate?
In Allegro, the author quickly gets to the heart of why we practice our instruments. Gorgeous illustrations remind us ̶ the dots on a musical page are merely a tool to transport us to magical places.
A side push-button panel gives us refreshing snippets of 11 classical musical masterpieces. The music is pleasantly in tune, unlike other books with sound buttons…
From the list:
The best children's books about classical music
When you buy a book we may earn a small commission.