Because
By Mo Williams, Amber Ren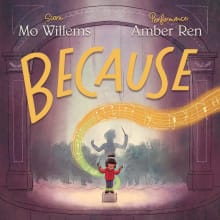 Why this book?
Mo Williams has hit all the right notes in this lushly illustrated book for young readers. How does one grow up to be a classical musician? Well… one beautiful moment leads to another…and another…and another.
Just as in this book, one magical experience in my young life changed everything. Because my 4th grade teacher took our class to see the original Disney Fantasia film, I heard, for the first time, the sound of The Philadelphia Orchestra. Shadows of violin bows danced across the panoramic movie screen as the musicians, conducted by Leopold Stokowski, performed Bach's Toccata and Fugue in D minor. Because of how that moment sounded and felt, I found my calling ̶ the violin. That's how it happens. One precious musical moment leads to another, to places you never dreamed you would go.
---
When you buy a book we may earn a small commission.