A Child's Introduction to the Orchestra
By Robert Levine, Meredith Hamilton (illustrator),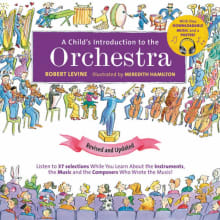 Recommended by Kali Bate
From Kali's list on to introduce kids to music.
This engaging book introduces classical music to children in an interactive and brilliant way. By providing readers with hilarious stories about musicians, composers, and conductors while introducing instruments, composers, and musical pieces, the children become exposed to history and the classical music world. Readers also have access to musical examples through audio tracks provided in the book. I introduced my young cousin to classical music with this book, and he became fascinated with the cello and ultimately joined his school orchestra.
---