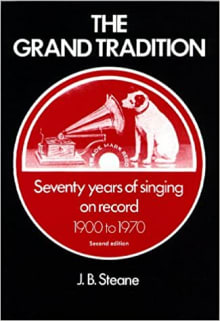 The Grand Tradition: Seventy Years of Singing on Record
By J.B. Steane
Why this book?
J.B. Steane's massive book, over 600 pages, is one of the most comprehensive books on historical singers ever written. My copy is riddled with text underlining and notes in the margins. His evaluations of singers are always honest, but fair. I have read this book at least 3 times and have re-read sections many more times. It invaluable.
From the list:
The finest books on historical opera singers
When you buy a book we may earn a small commission.