The Calculating Stars
By Mary Robinette Kowal,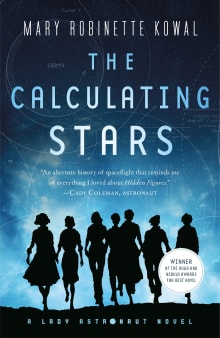 Recommended by Paige Daniels
From Paige's list on scrappy space adventures.
This is somewhat science fiction, but more of an alternate historical fiction novel. This is the first in the Lady Astronaut series. It starts off with a bang, literally, when a meteorite hits Earth in 1952. This meteorite destroys much of the east coast and sets off a ticking time bomb where Earth will no longer be habitable in a matter of decades. Now there is a full effort to colonize space so humans can find another home. Women who were once thought not able to become astronauts are now able to vie for spots in the Astronaut Corps along with their male counterparts. I love science history and reading about the women "calculators" of this area (Katherine Johnson, Rear Adm Grace Hopper, etc.). So if there's a space adventure set in this era, count me in!

---