Rápido, Rápido
By Lourdes Miquel López, Neus Sans,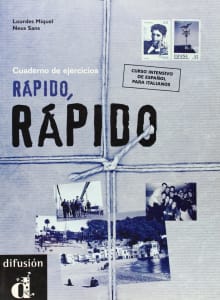 Recommended by Patricia Lorente
From Patricia's list on improving your Spanish.
This is a classic whole year (or semester) method to learn Spanish. I recommend it both for teachers and students since it is so complete and so well structured, that it can be well profited from both sides. 
The method is designed to fast forward and the new versions have been improved with the help of teachers who already used it, which is so interesting. It's well organized: 18 units divided in 5 points each (goals; texts-oral and written; grammar; activities for grammar and lexic practice; and a final task to be ideally prepared in group: a script for a radio show).
The pack is completed with audios that show the differences between Spanish language all over the world.
---