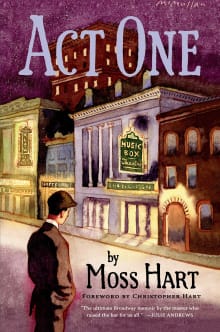 Recommended by Robert Kaplow
From Robert's list on set in the world of the theater.
While the prose style of Act One is a little fussy, florid, and overly eager to impress, this is still a moving, funny, and emotional biography of a talented, ambitious young man who is determined to make his mark as a Broadway playwright. And, at the end, when he single-handedly turns his out-of-town failure (co-written with George S. Kaufman) into a hit, you want to stand up and cheer.

---